Apartment development supply remains at high levels in Australia's largest apartment markets in 2017. We compare the Brisbane, Sydney and Melbourne apartment markets and provide a summary of what development looks like in the near future.
Brisbane, Sydney and Melbourne Comparison │ Ten Year Apartment Sales Cycle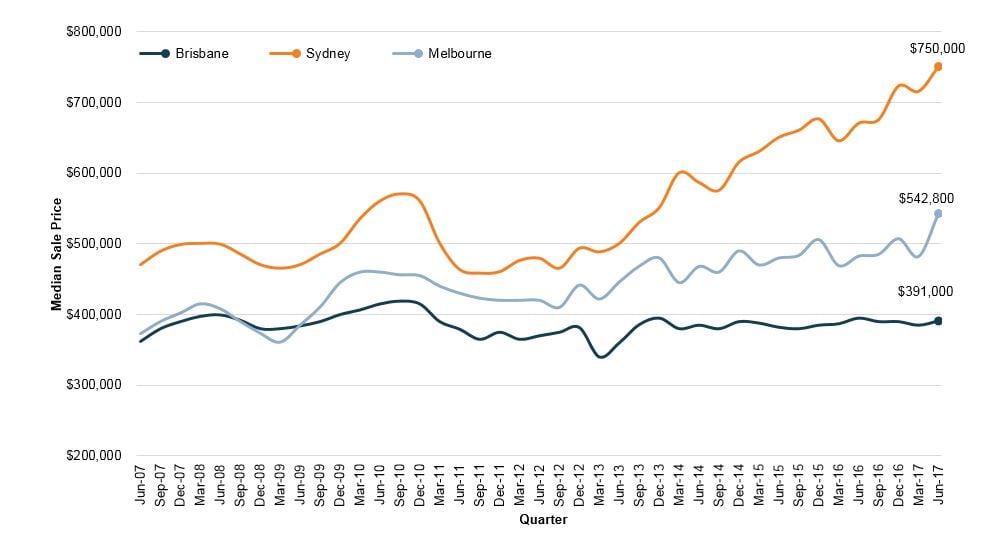 Prepared by Place Advisory. Source RP Data

Apartment Market Overview
The above graph clearly shows a widening gap occurring in median apartment prices between the Brisbane, Sydney and Melbourne apartment markets.
Median apartment prices for Brisbane, Sydney and Melbourne now sit at $391,000, $750,000 and $542,800 respectively and is easily the largest gap recognised in over 10 years.
Whilst the Brisbane apartment market has remained flat, there has been growth seen in both the Sydney and Melbourne apartment markets.
Over the last 12 months the Melbourne apartment market has shown the strongest growth in median prices, recorded at 12.5%. The Sydney apartment market was next with 11.9% growth, whilst the Brisbane apartment market declined in median price by 1%.
Over the last 10 years ending June 2017, the Sydney apartment market has increased in median price by 60%. This is followed by the Melbourne apartment market which has increased by 46%. However, the Brisbane apartment market has increased by only 8% during this time.
Brisbane Apartments have been on average, 43% more affordable than Sydney apartments and 15% more affordable than Melbourne apartments over the past 10 years ending June 2017.
At the current median price of $391,000, Brisbane apartments are 92% cheaper than Sydney apartments and 39% cheaper than Melbourne Apartments.
New Development
While apartment development approvals have remained at high levels throughout Australian capital cities in the year ending June 2017, 83% higher than five years prior, they have declined by approximately 12% year on year. Talks of an apartment oversupply continue to paint a dull picture of the Brisbane apartment market, while demand in Melbourne and Sydney has appeared able to keep up with the supply of new apartments. Over the past 12 months to June 2017, Apartment approvals have accounted for 55% of all residential approvals in Australia. This is 2% lower when compared to the same period in 2016.
As shown in the graph below, the majority of all apartment approvals in Australia, 86%, remain in the three major east coast cities of Brisbane, Sydney and Melbourne. In the year ending June 2017, the proportion of total apartment approvals has increased in Sydney and Melbourne by 5% and 1% respectively, whilst it has declined in Brisbane by 5% when compared to the same period in 2016.
It is important to recognise that apartment approvals do not however represent apartment supply in these locations.
Development Approvals by City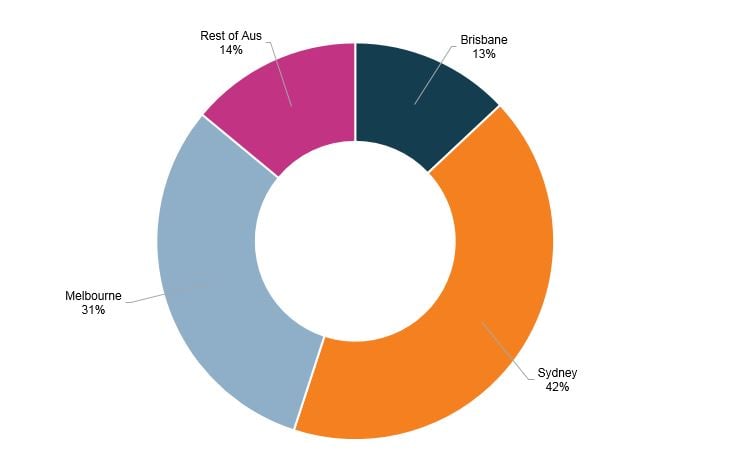 Prepared by Place Advisory. Source RP Data
Despite high levels of development approvals for the year ending June 2017, sales volumes are declining and settlement risk is increasing due to a number of factors that affect both foreign and domestic purchasers. Purchasers are dealing with stricter lending conditions and increasing finance costs as a result of restrictions placed on financial institutions, whilst foreign purchasers are also affected by the new vacant tax, foreign ownership restrictions in large developments, capital gains tax changes and the previous stamp duty surcharge. When the impact of declining sales numbers is coupled with rising construction costs it is logical to expect that a number of these development approvals will be deferred or abandoned.
Buying and Selling Costs
As a result of the federal budget and state legislation there have been a number of recent changes to the costs involved in buying and selling property in Australia. Place advisory has summarised the major changes below and provided a comparison of how they will affect buyers in Brisbane, Sydney and Melbourne.
Stamp duty concessions and exemptions are in favour of first home buyers giving them a leg up in their pursuit of property ownership.

Additionally, Melbourne property investors were previously only liable to pay stamp duty on the land component of off the plan purchases and a portion representing the amount of construction undertaken. However, investors must now pay stamp duty on off the plan purchases for both the full construction component and land component.
First home owners also benefit from grants when purchasing new property.

The recent federal budget has also introduced changes that affect foreign investors. Foreign and temporary tax residents who have entered into a contract after 9 May 2017 are no longer eligible for a capital gains tax exemption through claiming main residence when selling a property.

There are also changes to CGT withholding tax for foreign vendors when selling their property.

These changes are likely to reduce foreign and investor demand in the Australian housing market while at the same time increasing the number of first home owners entering the market.