Population growth, one of the most influential drivers of the residential property market, has been showing signs of a recovery in the Sunshine State during recent years. Place Advisory has analysed these population trends to find out who is moving to Brisbane, and what impact this is likely to have on the Brisbane residential property market.
Queensland Population Trends
Queensland has long been regarded as a popular place to settle when looking for a change of lifestyle. Population growth through migration is also a vital driver of real estate growth as it has a direct impact on demand. The graph below shows net population increases to Queensland over the past 20 years ending 2017.
Queensland Population Growth Breakdown: 1997 - 2017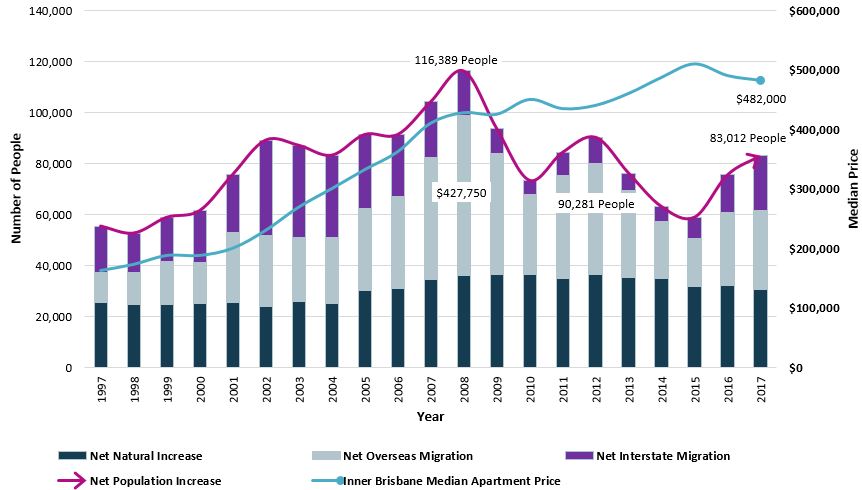 Source: Australian Bureau of Statistics. Prepared by Place Advisory. Please Note: data for 2017 was available until September only. Therefore, to provide a consistent representation of population trends a factor of 1:1 was applied to the September quarter 2017 for natural increase, a factor of 0.5 for overseas migration and a factor 1.33 to interstate migration to estimate numbers for the December 2017 quarter only. These factors are consistent with trends in previous years regarding the December and September quarters.
As can easily be seen, population increases in Queensland declined significantly since peaking in 2008 with a population increase of 116,389 people. Bottoming in 2015 with an increase of only 58,818 people to Queensland, the lowest level since 1999, population growth recovered to record an increase of 83,012 people in 2017 – a growth rate of 1.67% compared to 2016.
Increases in population growth over the past two years have been largely led by migration. In 2017 an estimated 31,043 people migrated to Queensland from overseas, an increase of 64% compared to 2015, whilst interstate migration increased by an impressive 159% in 2017 over the same period!
Net Interstate Migration to Queensland: 12 Months to September 2017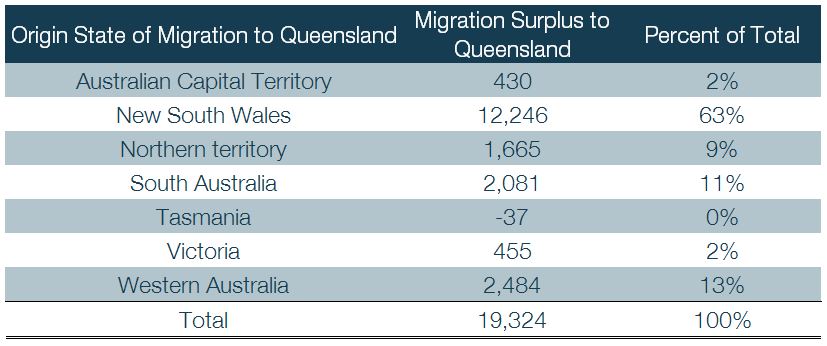 Source: Australian Bureau of Statistics. Prepared by Place Advisory
Net Interstate Migration to Queensland: 12 Months to September 2017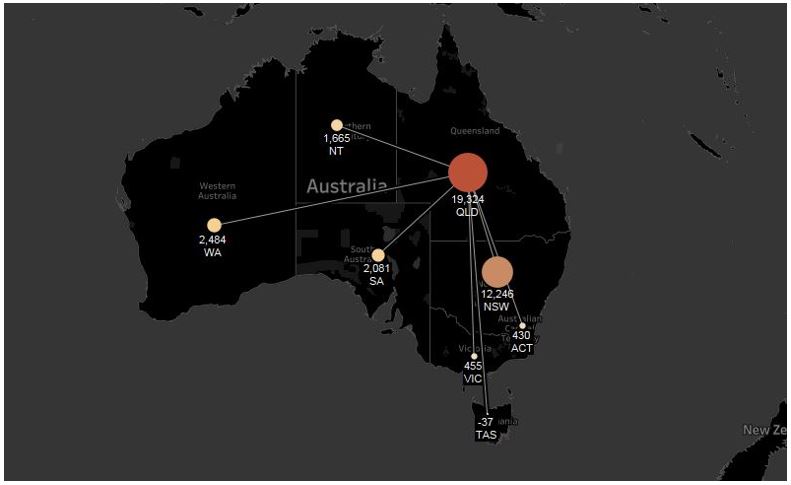 Source: Australian Bureau of Statistics. Prepared by Place Advisory. Queensland is represented by total surplus migration into the state.
Interstate migration to Queensland reached a total of 19,324 people in the 12 months to September 2017. During the period, Queensland had a migration surplus with every other Australian state and territory except Tasmania. New South Wales accounted for by far the majority of net interstate migration with a surplus of 12,246 people (63% of the total). A migration surplus with NSW has also been steadily increasing each quarter over the past two years.
Migration Surplus to Queensland from New South Wales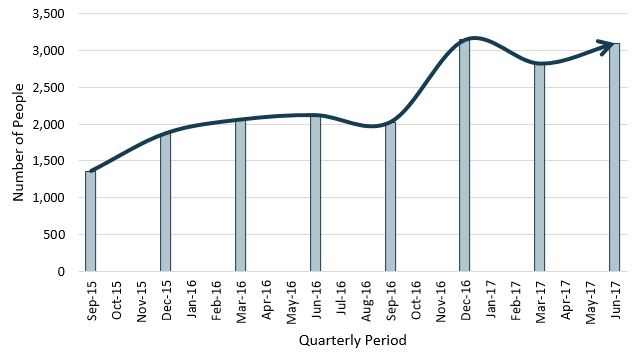 Source: Australian Bureau of Statistics. Prepared by Place Advisory
How Many of These People are Moving to Brisbane?
At the end 2017, Greater Brisbane's population was recorded at 2,408,223 people, increasing by 47,982 over the previous year. Accounting for natural increases, this means that approximately 58% of total migration to Queensland in 2017 ended up in Greater Brisbane.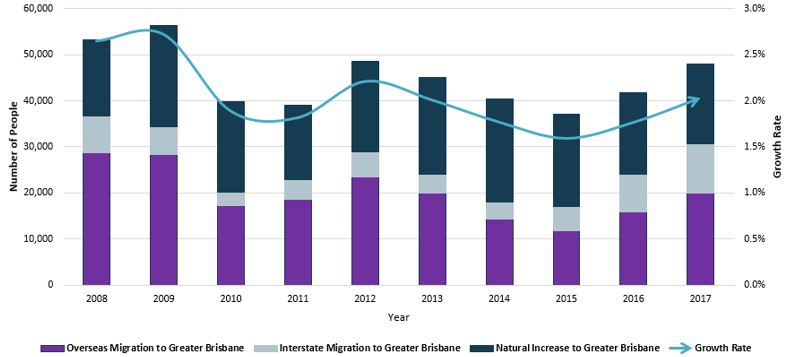 Source: Australian Bureau of Statistics. Prepared by Place Advisory. Please Note: Estimated Queensland migration proportions to Brisbane were calculated by applying the proportion of that component of population increase to Queensland to the Greater Brisbane population increase for that year.
Who are these People?
Taking the average age breakdown of all net migration to Queensland shows that an average of 53% of people moving here are aged between 20 and 49 years of age and are therefore highly likely to enter the workforce. Furthermore, an average of 40% of people were aged 19 and below, suggesting that a large proportion are families with children.
Age Bracket of Interstate Migration to Queensland

Source: Australian Bureau of Statistics. Prepared by Place Advisory
Additionally, overseas migrants and their likelihood of purchasing a property is highly determined on which visa they possess. Those with permanent visas are much more likely to purchase property at some point than those with temporary visas. The latest ABS data reveals that as migration bottomed leading into 2015, there was a significant reduction in the proportion of New Zealand citizens and permanent visa holders moving to Queensland. Therefore, exacerbating the impact of lower migration levels on the property market.
Overseas Migration to Queensland by Visa Type

Source: ABS. Prepared by Place Advisory. Data regarding visa type is available until 2015 only at the time of writing.
What Does the Future Hold?
The population of Greater Brisbane is expected to experience solid growth over the coming 10 years. The Australian Bureau of Statistics has predicted strong population growth at an average of 62,410 people in Brisbane per year over this period. In 2018, the growth rate is projected to be 2.3% decreasing to 2.1% in 2026 and remaining steady.
Greater Brisbane Population Projections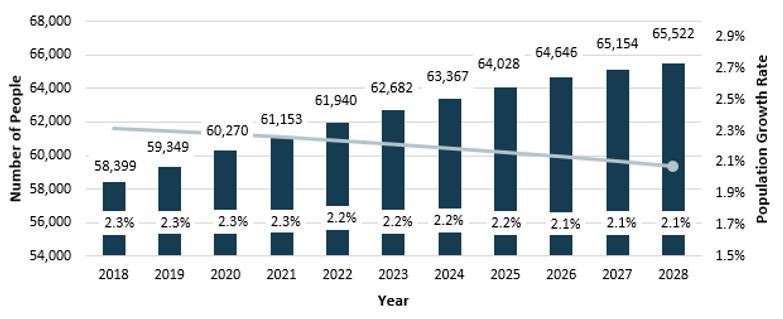 Source: Australian Bureau of Statistics. Prepared by Place Advisory
Whilst, family households are expected to see the largest increase over the next 10 years, the Australian Bureau of statistics projects that lone person households will have the highest growth rate leading into 2028, averaging a 2.4% increase per annum. This is followed by family households which have a projected average growth rate of 1.8% per annum over the same time frame. Group households are set to see the smallest growth rate at an average of 1.4% per year.
Greater Brisbane Household Projections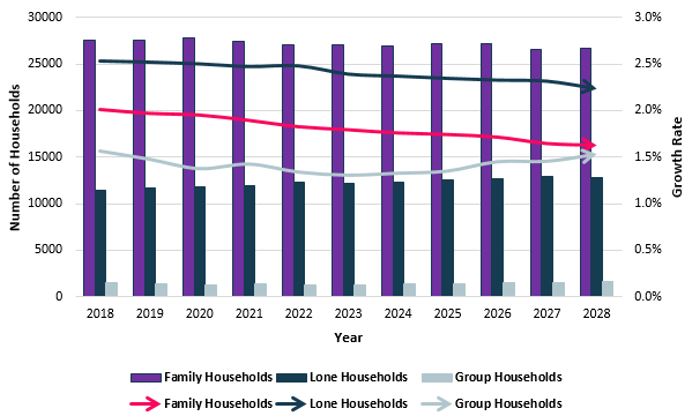 Australian Bureau of Statistics. Prepared by Place Advisory
What Does This All Mean?
With a currently increasing rate of population occurring in Queensland, demand for residential property is similarly expected to increase. Brisbane is set to be the largest beneficiary of this growth as the city historically accounts for the majority of this population growth. Following strong price growth in property in New South Wales, it is expected that a large proportion of interstate migrants will have a large amount of equity built up which they can use to purchase property at a much more affordable price.
INTERSTATE MIGRANTS WITH SIGNIFICANT EQUITY
This additional demand through population growth is supported, with over 53% of all migration being of a prime working age, and a large proportion being families with children. The upper end of the 0 – 19 age bracket will also be expected to enter the work force in the short to medium term. However, rental demand should see a slightly stronger boost from overseas migration until the proportion of migrants with permanent visas returns to previous levels.
BOOST TO THE BRISBANE WORK FORCE
In the short term this should see Brisbane's vacancy rate remain stable and begin to decline as residential construction significantly declines and extra supply is absorbed, with the last significant wave of apartment completions set to hit the Inner Brisbane market in 2018.
STABILISING AND IMPROVING RENTAL MARKET
With at least 60% of migration not having children and lone households projected to experience the highest growth rate of all household types, the average household size should slowly edge lower. This will mean a higher rate of supply will be needed in future periods to find market equilibrium and increased demand for smaller sized dwellings.
SMALLER HOUSEHOLD SIZES
With a current average household size of 2.7 people in Brisbane and a population growth set to be in the range of 40,000 to 65,000 people annually over the next 10 years, 14,815 to 24,074 new dwellings will be required per year. If the average household size was to edge lower to 2.5 as expected, this required supply would increase by between 1,185 to 1,926 additional dwellings per year.
INCREASING NUMBER OF DWELLINGS REQUIRED
Summary
Whilst the Brisbane property market will continue to be largely influenced by the local economy and macro prudential factors, an increasing population will provide a much needed boost to residential property demand. With new housing supply to the Inner Brisbane market poised to decline significantly in the near future Brisbane is set to be a big beneficiary as the main destination for those moving to Queensland. Currently supply will continue to be absorbed resulting in a stabilising vacancy rate and prices for residential property in the short term before moving into growth phase of the next cycle.