Brisbane's optimistic property outlook
With the forecasted return of impressive population growth figures and an influx of infrastructure projects in the pipeline, Brisbane's buoyant property sentiment remains, as does the affordability advantage, between the city's two larger capitals.
In the first quarter of 2022, Brisbane's record-setting $480,000 median apartment price was achieved by 7.9% growth from 1-year prior. They're nonetheless 42% and 24% more affordable than those in Sydney and Melbourne respectively and is anticipated that value will continue to be displayed by interstate buyers, while price growth in the two larger cities starts to decelerate.
Brisbane vs Sydney vs Melbourne
Apartment Median Price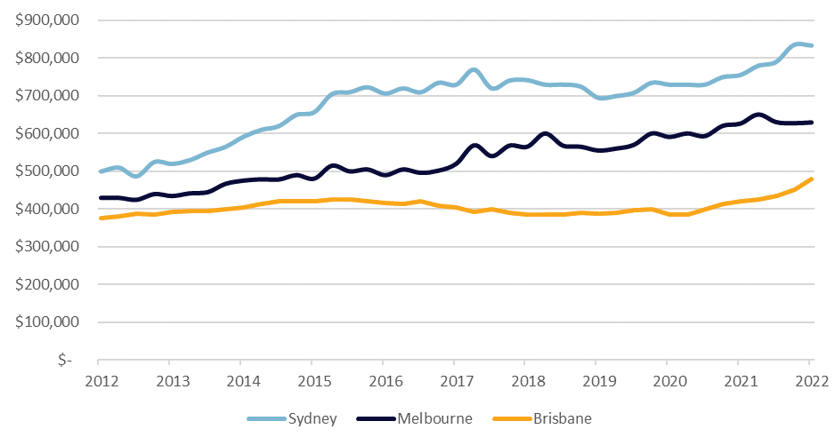 Prepared by Place Advisory, Source: CoreLogic
Population Growth
With borders easing worldwide, the latest population forecast for Brisbane suggests overseas arrivals will resurge to a level of above 50,000 people per annum. When combined with the continuance of impressive interstate migration numbers, Brisbane's population is forecasted to reach 3 million people by 2031.
Under the acknowledgment of the ABS's Average Household Figures, approximately 22,000 dwellings would need to be built per annum to accommodate Brisbane's overseas arrivals alone, otherwise, face increasing demand pressures.
Brisbane's Population Forecast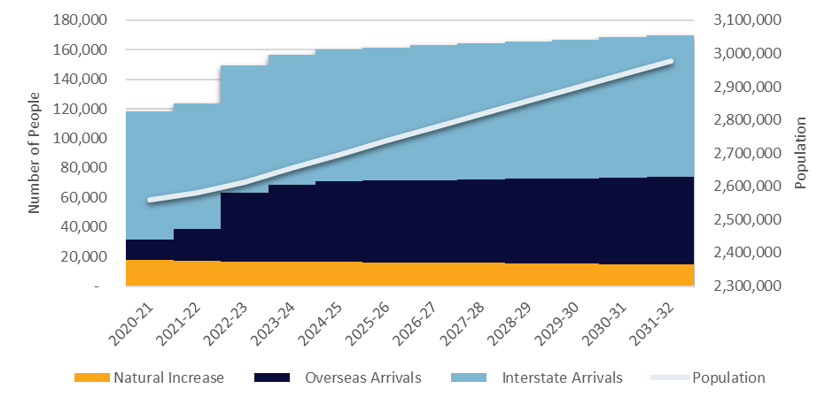 Prepared by Place Advisory, Source: Australian Government
Apartment Rent in Brisbane
Brisbane's inner-city rental market has experienced increases in rents for both houses and apartments over the last 5-years, despite COVID-19 restrictions throughout.
Median Weekly Rent - Brisbane 5-Year Change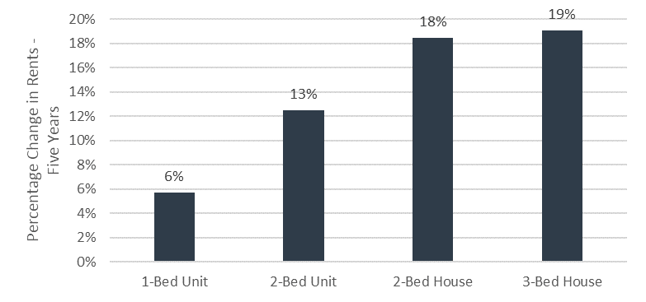 Prepared by Place Advisory, Source: RTA, SQM Research
As to be expected with rising rents, vacancy rates have also fallen to 0.9% in Brisbane as demand continues to outstrip available supply.
This is especially lower than that found in Sydney and Melbourne where 2.0% and 2.3% vacancy rates are apparent. Additionally, Brisbane's gross rental yields of approximately 5% also provide greater income opportunities than Sydney & Melbourne, where yields are 3.5%.
Vacancy Rates in Brisbane
Feb 2018 - Feb 2022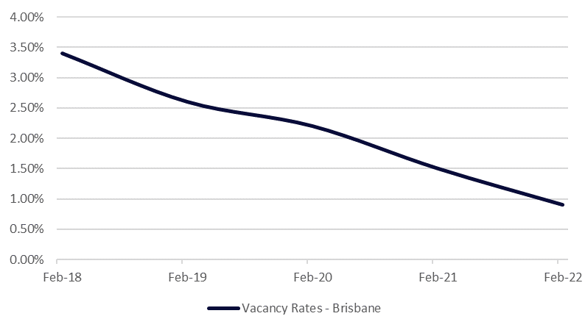 Prepared by Place Advisory, Source: RTA, SQM Research
project Pipeline
Cross River Rail
Scheduled for completion in 2024, the Cross River Rail will transform Roma St station to become the largest transportation node in Queensland. This will inevitably improve inner-city bottleneck conditions and enhance the capital's capacity to expand upon its overall economic productivity.
Queens Wharf
The first stage of the $3.6b Queens Wharf integrated resort is due for completion in H1 2023. This will comprise The Star Casino, Queens Wharf Residences, Hotel, Sky Deck, restaurants, and retail precincts.
Kangaroo Point Green Bridge
The construction of what will be Brisbane's tallest bridge will commence in 2022, linking Kangaroo Point to the CBD, in turn improving mobility between the inner-city with the Gabba Stadium and surrounds. It will also showcase notable amenities, including a restaurant, café, and river-viewing areas.
Eagle Street Pier Revamp
The Eagle Street Pier and Waterfront Place will see a $2.1 billion transformation comprising two new towers as well as an abundance of new dining precincts. A raft of added public amenities will span around 9,000 square meters with an upgraded riverwalk, improving walkability between Waterfront Place and Riparian Plaza.