The impact of Brisbane's one sided boom is starting to be realised, as the gap between house and apartment values has widened to its highest level on record.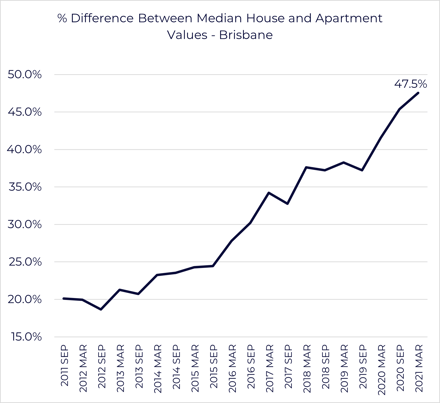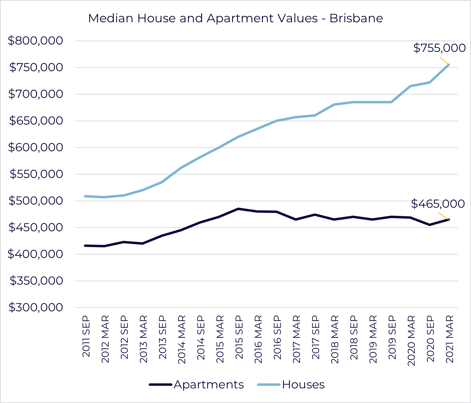 Brisbane's 5.6 per cent house value surge has now pushed the median price for a house to $755,000.
Conversely, apartment values across the city have held, creating the largest disparity between house and apartment values in history, at a 47.5 per cent.
Sales figures for the March quarter have substantiated the affordability pressure placed on buyers in the Brisbane house market.
Apartment sales rose by 16 per cent over the year, a trend that's expected to continue, as the spike in house prices further compels buyers to purchase in the medium and high-density apartment market.
It's unquestionable that the record disparity will continue to spur demand in the apartment sector, and it's likely that an increase in values will follow. Hence, alarm bells should be ringing loudly for investors to take position in the long suffering apartment market now, before the values start to take off and go the way of the house market.
Conjointly, the increasing squeeze on apartment stock, particularly felt the new and off the plan sector, is set to propel apartment values which have remained stagnate since September 2015.
As reported in the latest Place Advisory Quarterly Apartment Report, new and off-the-plan apartments have reduced from the heady days of 1600 sales in the final quarter of 2014, to a mere 219 sales in the first quarter of 2021, exemplifying a clear shortage.
Drivers of demand including increased net migration, record low interest rates, and an imminent Olympic sized infrastructure spending spree are expected to further accentuate the supply squeeze.
An opportunity now exists for developers considering launches of new projects, to serve the demand for spacious 2 and 3 bedroom apartments, with higher quality finishes, appealing to owner occupiers priced out of the house market.