Brisbane is entering into the early stages of a property market recovery which is being led by the city's Inner Ring. Confidence is returning to the property market and this is leading to an increase in demand for properties. Here in Brisbane, this is starting to have a positive impact on property prices as the city's Inner Ring records strong growth for houses and an end to price declines for units. In this short blog, we have broken down Brisbane property prices by region and property type. Read on to see the results.
HOUSING MARKET
The Brisbane housing market posted decent gains over the past five years but appeared to stall in the lead up to the Federal election earlier in 2019. However, the market looks to be heading towards growth once more. The Inner Ring is leading the charge, having increased by 2.6% over the last six months to record a median price of $903,000 for the six months ending September 2019.
Brisbane Housing Market Trend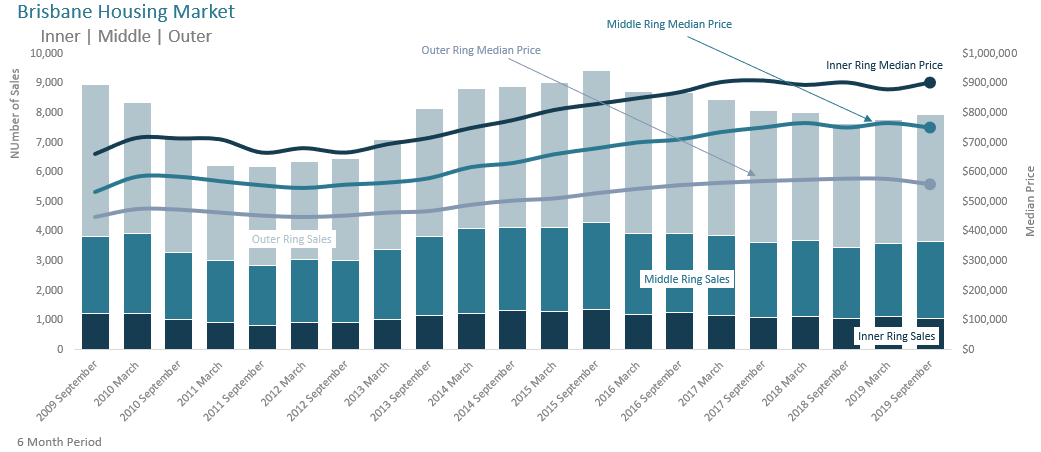 House Price Total Price Growth

Price falls remain minimal in other regions of Brisbane with the Middle Ring recording the same $750,000 median price as it did 12 months prior and the Outer Ring sitting just 3% below last year at $560,000. However, as increased confidence continues to translate into housing demand as evidenced by increasing sales numbers, all three Brisbane regions are expected to record some price growth into 2020.
UNIT MARKET
Although trailing slightly behind the housing market, Brisbane's unit market appears to similarly be turning a corner. As the Inner Ring moves past the large increase of supply of recent years, price declines have stopped with steady median prices through the six months ending September 2019 at a median price of $475,000. As new supply additions quickly dry up, the potential in this market for price growth increases.
unit Housing Market Trend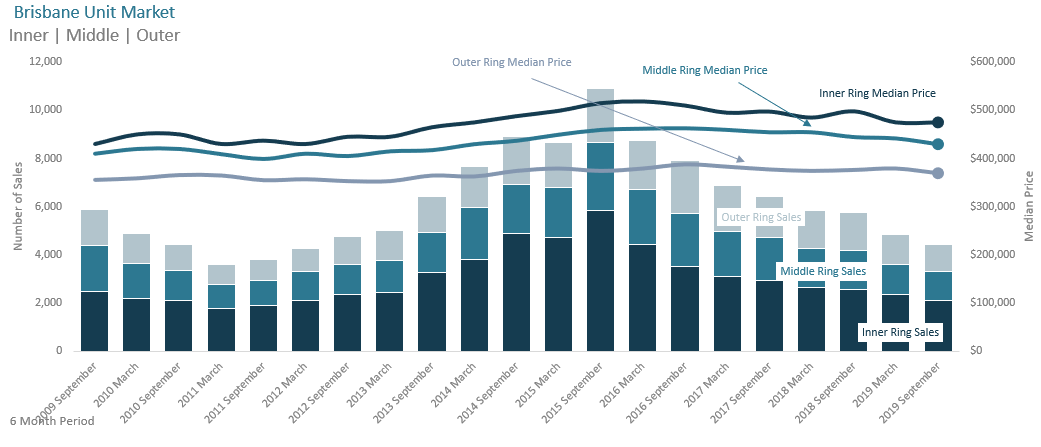 The Middle and Outer Rings appear to be lagging behind the Inner Ring with prices down 3.4% year on year in the Middle Ring and 1.9% in the Outer Ring. The median unit price in these regions is now $430,000 and $370,000 respectively. The contrasting performance of these regions illustrates the rapid improvement in the Inner Ring which has underperformed in recent years.
unit Price Total Price Growth

summary
Despite some headwinds still remaining, it is clear that the Brisbane property market is in the early stages of a recovery cycle. Increased confidence in the market place is leading to increased demand and underpinning the recovery which is being led by the City's Inner Ring.