2018 has brought about significant change in Australia's east coast property markets. Last year, Sydney and Melbourne were red hot, reaching the peaks of their respective property cycles after a sustained period of price growth, while Brisbane lagged behind. However, this year the tables have turned with Brisbane's positive outlook reaching new heights after the property market held steady, despite Sydney and Melbourne heading into negative growth territory. In this report, Place Advisory will look at how the Brisbane apartment market compares to its east coast rivals.
Brisbane, Sydney and Melbourne Median Apartment Prices

As at June 2018, The Sydney apartment market had a median price of $752,625. With comparably high prices, a noticeable decline has begun. The Melbourne apartment market is next with a median price of $574,304 at June 2018. Whilst, prices have not slipped as much as Sydney, prices here have been flat for the last six months. In contrast to Sydney and Melbourne, Brisbane apartments have not shown any apparent price growth over the past seven years recording a median price of $386,685 at June 2018. However, due to this, prices have also not seen the downward pressure that is occurring in Sydney.

This current scenario also shows that whilst Brisbane has experienced a record high influx of new apartment supply, the city has generally been able to counteract it with equivalent demand. Now that the rate of new apartment supply is rapidly declining and population growth and economic performance are picking up, it is probable that demand for Brisbane apartments will soon absorb and outstrip supply, pushing the Brisbane apartment market into positive price growth territory.
The Premium Cost for a Sydney and Melbourne Apartment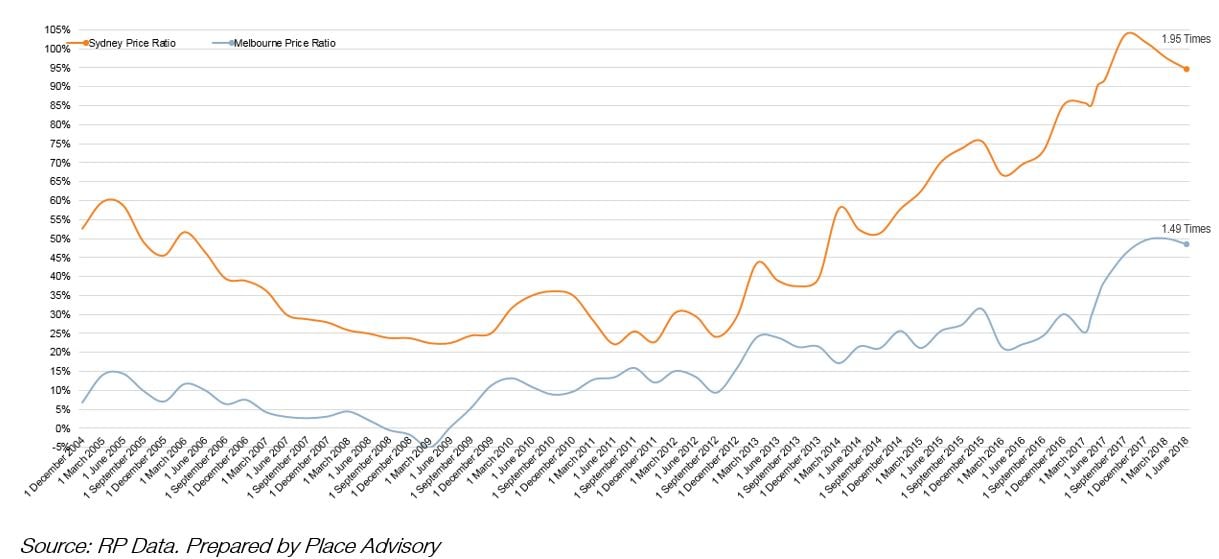 The above graph shows how expensive Sydney and Melbourne are compared to Brisbane apartments. Sydney and Melbourne apartments are now considerably more expensive than a Brisbane apartment, recorded at 1.95 times and 1.49 times the cost in June 2018 respectively. Whilst, the premium for Sydney apartments has begun to decline on the back of negative price growth in the Southern Capital, it is beginning its retraction from a record high price differential.
The current scenario places Brisbane apartments in a favourable position as affordability and perceived value deteriorates south of the border. Brisbane apartments now boast several superior qualities to its rivals including higher rental yields, more positive price growth outlooks, better perceived value, increased affordability and for those that are considering moving to the city, a more financially feasible lifestyle.
As the cycle continues and the outlook continues to improve for Brisbane Apartments, Place Advisory expects some of the equity built up in Sydney and Melbourne during the past six years will begin finding its way to Brisbane.
Price Ratio Relationship: Brisbane and Melbourne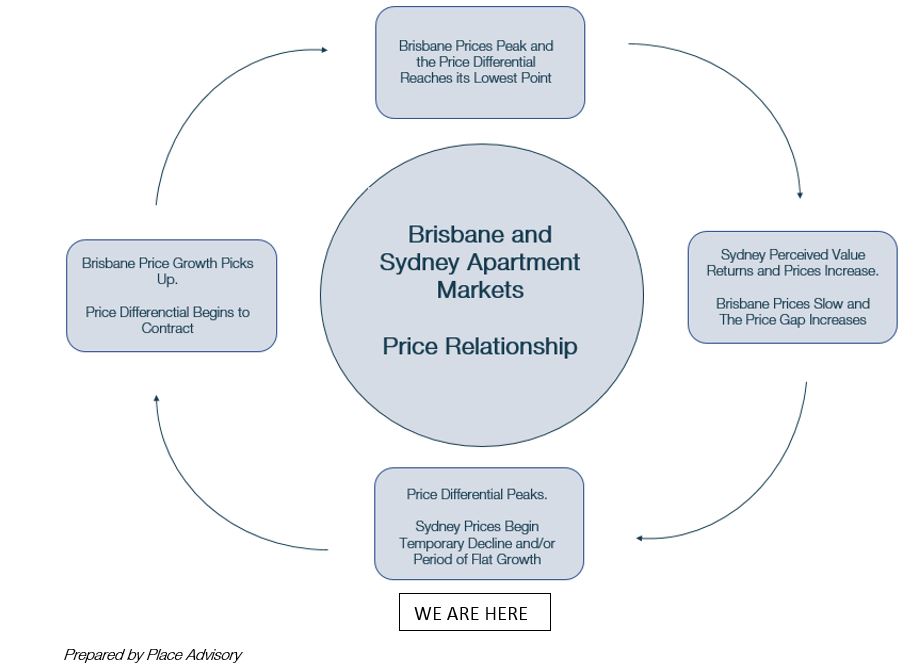 Over the last few decades a price ratio relationship has occurred between Sydney and Brisbane apartments whereby the price difference has increased to around 1.7 to 2.0 times before retracting to as low as 1.15 times.
Analysis of the growth rates of the two apartment markets over the years reveals that Sydney and Brisbane will tend to experience strong price growth out of sync. In effect, Sydney will experience growth causing the price difference to increase, after which Brisbane will then experience a pickup in price growth to close the price gap. In support of this, statistical analysis has supported the notion that Brisbane apartments' price growth is greater during periods where the price difference between the cities in decreasing than when the gap is increasing.
Brisbane apartments now sit at the point of the cycle where the price gap between Sydney and Brisbane apartments begins to decrease. If results are set to continue, this means that Brisbane should experience superior price growth in the coming years than it did in the preceding years. Market fundamentals currently appear to make this a likely reality.