The Brisbane Rental Market has improved markedly over the past 18 months as demand stemming from population growth is now outpacing the rate of new residential supply. The Inner Brisbane region in particular has seen the biggest fall in the vacancy rates as new residents flock to the area and fill the many recently constructed new apartments. Rental price growth is also beginning to pick up again as the Brisbane property market continues to turn the corner. In this blog we look at Brisbane's vacancy rate trend, the location of available rental stock and current rental prices.
Vacancy Rates
With population growth reaching its highest rate in the past 10 years and a slow down in sales transactions throughout the wider market, it is inevitable that more people will rent. This has caused a sustained decline in the Brisbane vacancy rate which was recorded at 3.3% in December 2017 to be just 2.2% in June 2019. At this level of vacancy, Brisbane is becoming a tight rental market with competition among renters increasing, putting upward pressure on rental values.
To highlight Brisbane's strong improvement in the vacancy rate, the 1.1% decline over the past 18 months to June 2019 sees Brisbane recording the second strongest rate of decline among all Australian capital cities. Only Perth recorded a stronger decline over the same period, however this occurred from a much higher level with Perth still at 3.5% vacancy for June 2019.
BRISBANE'S VACANCY RATES IS IN DECLINE

number of vacancies
The decline in the Brisbane's vacancy rate naturally results in a simultaneous reduction in the number of available rental properties. In June 2019, there were a total of 5,402 rental properties available for rent throughout Brisbane suburbs covering 66 postcodes. Although this is more than the 5,069 recorded for May 2019, it is still 20% less than the 6,754 in June 2018.
Emphasising this reduction is the fact that several Inner Brisbane high rise apartment developments also completed construction during this time frame in a period of above average residential supply completions.
location of brisbane's 5,402 june 2019 available rental properties
With new residential supply levels in Brisbane continuing to declining, particularly in Inner Brisbane, over the next few years and population growth remaining high, It is expected that the Brisbane rental market will continue to tighten.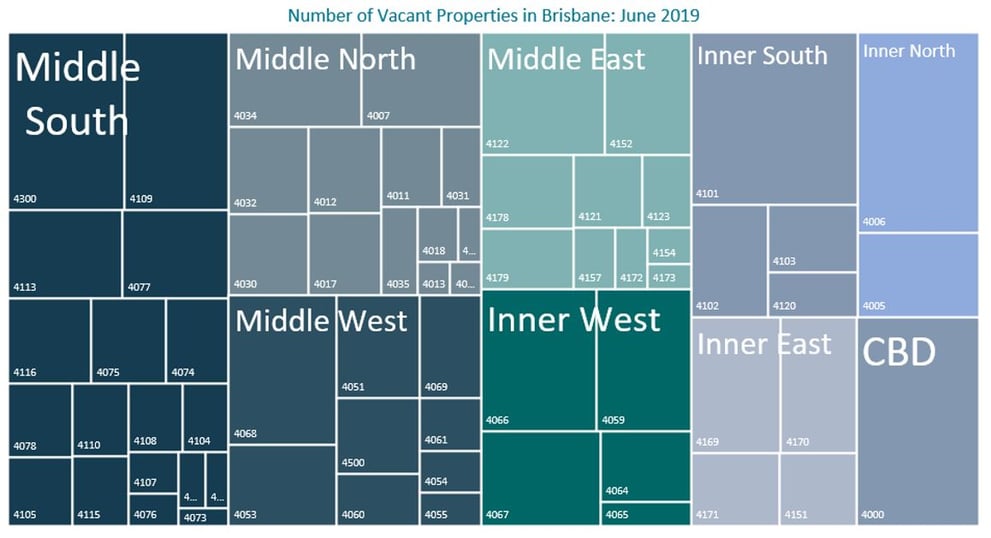 Prepared by Place Advisory. Source: SQM Research. Proportional size represents the comparable number of available rental properties
The following interactive map breaks down Brisbane by postcode showing the June 2019 vacancy rate, the 12 month vacancy rate change and the number of available rental properties. Use the parameter control to change what attribute the map is colour coded for. You can also hover the cursor over the map to get information
Prepared by Place Advisory. Source: SQM Research.
most improved locations
The following postcode areas have proven to be Brisbane's best improvers over the past 12 months based on the change in vacancy rate. Five of the top 10 suburbs were in Inner Brisbane and the CBD where there are strong signs of a tightening rental market. Brisbane's South and North both had two postcodes make the list while Brisbane's West had one.
The top postcode was 4073 which contains the suburbs Seventeen Mile Rocks and Sinnamon Park whose vacancy rate declined by 3.3% over the past 12 months. This postcode has a relatively small rental market with only 10 available properties and a vacancy rate of just 1.7% in June 2018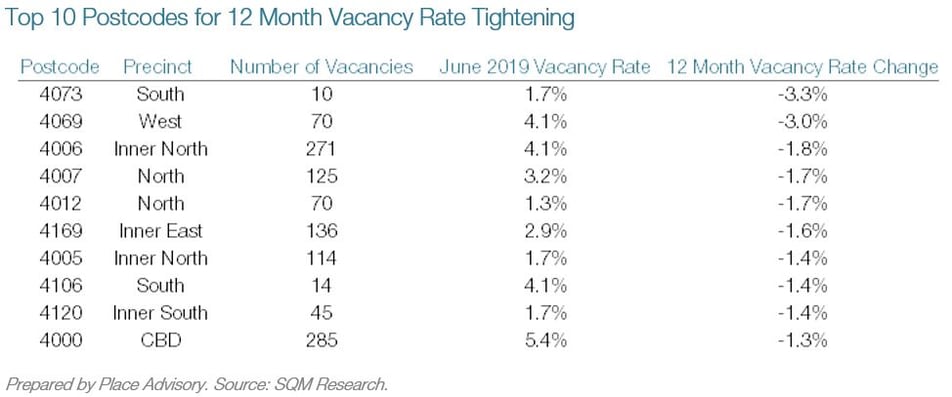 Although Inner Brisbane is showing vast improvements in vacancy rates, it is still the rest of Brisbane that has the strongest rental market. Of the top 10 suburbs for tightest vacancy rate in June 2019, none were from Inner Brisbane, while six were in Brisbane's North. The neighbouring postcodes 4013 and 4014 which include the suburbs Northgate, Banyo, Nudgee, and Virginia were recorded as having the tightest rental market with a vacancy rate of just 1.1% each and only 26 available rental properties between them in June 2019.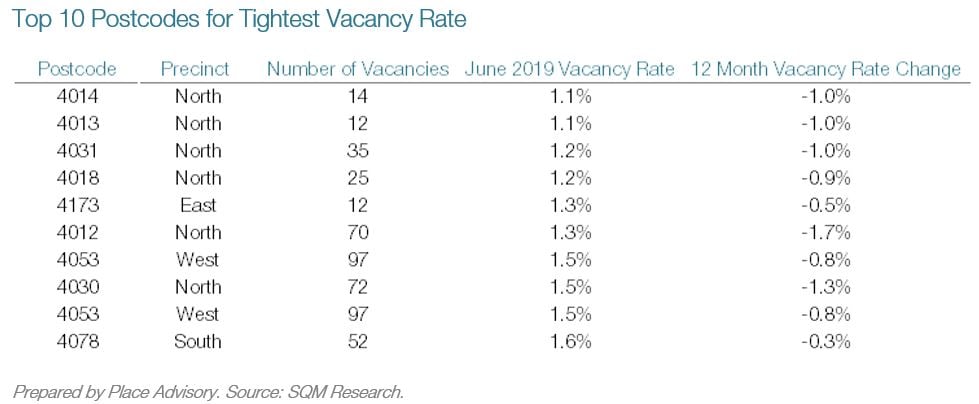 Furthermore, of the 66 postcodes considered in this report, 49 had a lower vacancy rate in July 2019 compared to June 2018. A further five were recorded at the same level, whilst just 12 had a worse vacancy rate. However, the average vacancy rate of these 12 postcodes was still just 2.9% and within the healthy range.
RENTAL PRICES
Due to heightened vacancy rates in Brisbane in previous years, there has been minimal rental price growth over the same period. Over the past five years, one bedroom apartments recorded the most rental price growth of just 11% or 2.1% per year.
However, with a tightening rental market, rental price growth is showing early signs of entering a growth phrase. Over the past year, all property types except one bedroom apartments and three bedroom houses recorded at least 2% growth with two bedroom townhouses recording the largest increase of 5% going from a median of $380/pw in the June quarter 2018 to $400/pw in the June quarter 2019.

Source: Residential Tenancies Authority. Prepared by Place Advisory
Conclusion
The Brisbane rental market has improved markedly over the past 18 months and is now in a strong and healthy position.
At present the market appears more evenly balanced between renters and landlords compared to previous years which were heavily in the renter's favour. However, with new residential supply completions set to continue to decline over the next few years while population growth remains strong, the rental market is expected to be tilted further in favour of landlords. Tight vacancy will undoubtedly create more competition for rental properties and put upward pressure on rental prices.