In this short blog we have taken a look at how Brisbane property has performed over the past 10 years. To do this we have broken Brisbane down into four regions; North, South, East and West. From here we have calculated the average annual return per suburb to June 2019 for both houses and units and ranked them from highest to lowest for each region of Brisbane. You can explore the results using the interactive map and by using the filters to refine your searches. Read on for a summary of the results.
Overall, the average annual growth rate for Brisbane property over the past 10 years is just 1.8% per annum and evenly spread among the four Brisbane quadrants, ranging from 1.7% p.a. to 1.9% p.a. This growth rate is subdued primarily by the unit market (average of 1.1% p.a. per suburb) which is now emerging from a cyclical downturn brought on by large levels of new supply being constructed. Brisbane houses (2.3% p.a. average per suburb) have performed better after several years of steady growth but have slowed in the past 12 months.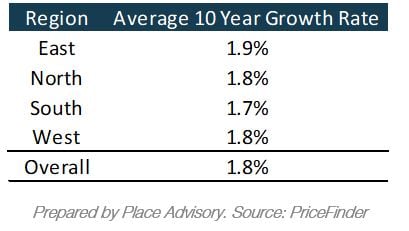 However, there are been some suburbs that have increased in median price at a rate far exceeding this average. Houses in Hamilton have been Brisbane's best performers increasing in median price by an average of 8.3% over the 10 years to June 2019 and now boast an impressive median price of $1,890,000. New Farm, a consistently high performer, has recorded the next best result for houses at an average annual rate of 5.7% over the same period. Despite the difficult past few years for the unit market, three suburbs still made the top 10 list. These were Seven Hills (5.5% p.a.), Mitchelton (4.5% p.a.) and Graceville (4.1% p.a.) which are all found in Brisbane's middle suburbs.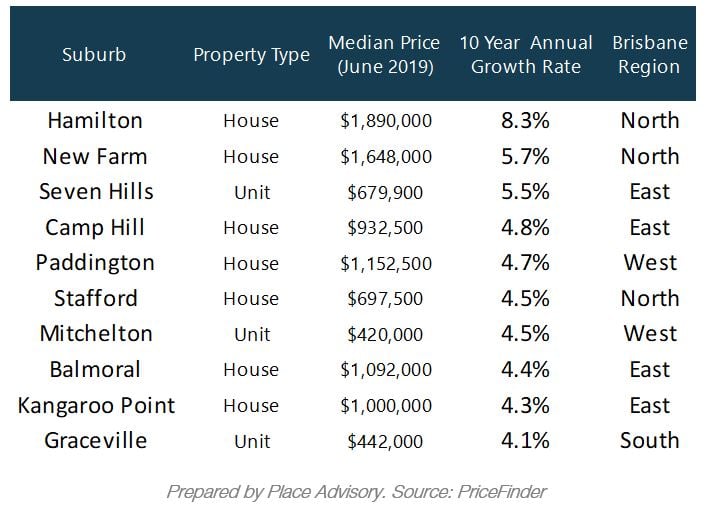 Conclusion
Overall, Brisbane property has increased at a modest rate of 1.8% per annum over the past 10 years. However, some properties have well outperformed the average. Brisbane's east has been a strong performer with four of the top 10 best performers while Brisbane's North took out top spot with houses in Hamilton. The varied results show the strong diversity of property throughout Brisbane.